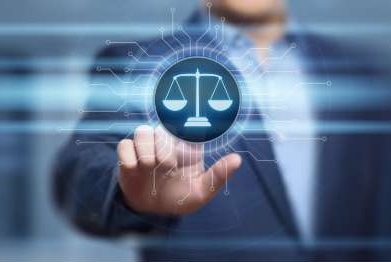 Image: Trader accessing ClikcTrades website.
Although trading Contracts for Differences is a rather new way of doing trading, nowadays more and more investors are looking to trade CFDs as this type of contract offers them the option to transact on price movements without owning the underlying asset. The contracts established between the client and the online broker have some main characteristics that make them attractive for investors as they can:
1. access global markets from one platform;
2. enjoy higher leverage then they would have got if they decided to choose usual trading;
3. trade without any commission or fees for execution;
4. diversify their portfolio by having access to a wide range of trading instruments.
Cutting-Edge Solutions for the Ultimate Trading Experience
Considering all the above, ClickTrades aims to deliver you an outstanding experience by providing:
• cutting-edge solutions
• fast execution speeds
• competitive trading conditions
Even more, as we are authorised and regulated by The Seychelles Financial Services Authority, we commit to provide you with all the necessary resources for you to enjoy a seamless trading experience and we take every necessary step to support you in educating yourself and constantly improving your skills.
In the following article you will find out more about:
• The CFD instruments we offer;
• Our trading platform;
• The trading conditions we have available;
• How to use the Economic Calendar;
• Bonuses and rewards;
• Our Customer Support Team.
Over 2100 CFD Instruments Available to Be Traded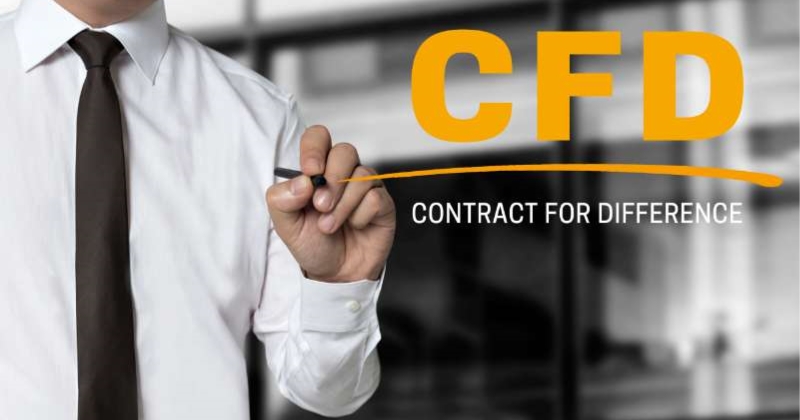 Image: The concept of trading CFDs.
Once you join ClickTrades you get access to an ever-growing market and may trade more than 2100 CFD instruments that fall under one of the following 7 asset-classes:
1. Forex;
2. Indices;
3. Bonds;
4. Shares;
5. ETFs;
6. Commodities;
Having so many options available, you may easily diversify your portfolio and better manage the risks associated with CFD trading.

Trading CFDs on Forex – One of the Most Popular Options Available at ClickTrades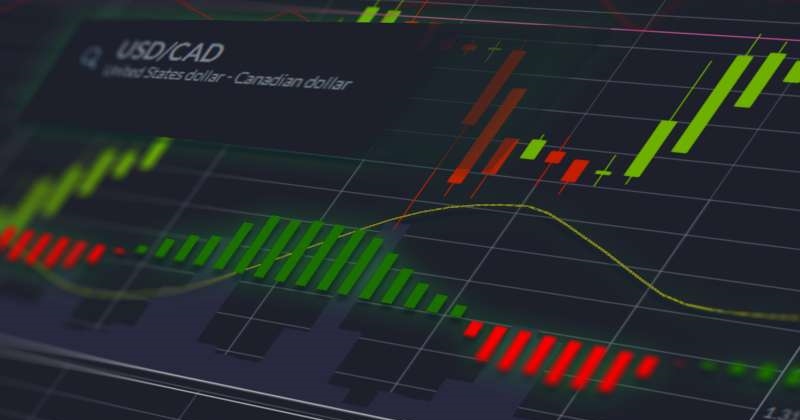 Image: Forex chart on WebTrader platform.
As Forex Exchange is a global decentralised market characterised by tight spreads and high liquidity, many traders prefer to trade CFDs on Forex. At ClickTrades you will find more than 50 currency pairs on which you can get information by using advanced charts and up-to-the-minute quotes integrated directly into our platform.
Once you log into the WebTrader platform, you will find three popular currency pair groups you can choose from:
1. Majors, which are the ones that trade the most volume against the USD and include:
• USD/JPY;
• AUD/USD;
• EUR/USD;
• GBP/USD;
• NZD/USD;
• USD/CAD;
• USD/CHF.
2. Minors or crosses are the currency pairs that do not associate with the U.S. dollar. Some of these pairs are:
• EUR/CAD;
• GBP/CHF;
• NZD/JPY.
3. Exotics are pairs that include currencies of emerging markets, such as:
• EUR/RUB;
• USD/PLN;
• GBP/RON.
With ClickTrades you will find unbeatable conditions when trading CFDs on Forex, including leverage up to 1:300, low spreads and no commissions on deposits or withdrawals.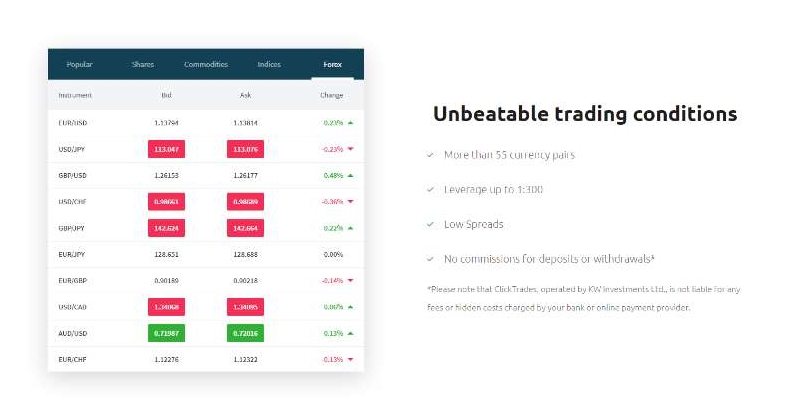 Image: Trading conditions on CFDs on Forex at ClickTrades.
*Please note that ClickTrades, operated by KW Investments Ltd., is not liable for any fees or hidden costs charged by your bank or online payment provider.
All the other CFD instruments have as well trading conditions that you will surely enjoy and that you can check out on the dedicated page of each asset class where you will also find the trading hours which are the same for all CFD instruments:
• 24/5, from Sunday at 21:00 GMT (when Asian markets open) to Friday at 21:00 GMT (when U.S. markets close).
A Powerful Platform with More Than 2100 CFD Instruments to Trade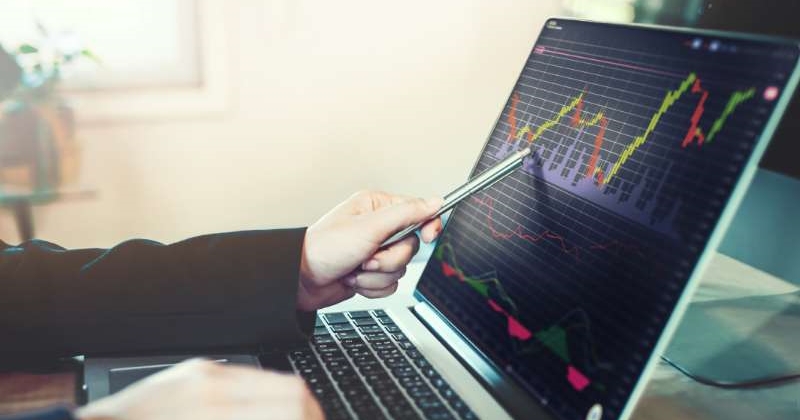 Image: Trader accessing WebTrader platform.
ClickTrades has a proprietary platform that allows you to trade on mobile, tablet and desktop, while you have access to all the instruments presented above.
On this platform built on the latest technologies for fast execution you will also find 5 main features:
1. Risk Management Tools – which allow you to tailor the risks by using features such as limit and stop orders meant to enhance your trading experience.
2. Advanced Chartist Methodologies – by using 3 chart styles and several indicators you can develop your trading strategies and level up your trading skills.
3. Negative Balance Protection – that ensures you will never lose more money than the funds you have deposited into your account.
4. Easy-to-use Trading System – the platform is developed and designed in such a way for you to enjoy flawless sessions at any moment you decide to trade CFDs.
5. Customisable Layouts – designed to offer you the option to use the platform according to your skills and experience.
Trading Central – A Top-Leading Analysis Tool to Enhance Your Trading Sessions
Developed by an award-winning company, Trading Central is a dynamic tool that will support you in your trading decisions as it provides technical analysis for a wide range of instruments that can be found on the WebTrader platform.
Directly embedded in the online platform, the tool is both efficient and reliable, offering you access to many indicators that will help you better understand how the market works, what is the trend for each CFD instrument, and which ones to trade according to the information you gather.
Trading Central, a Certified Member of three Independent Reasearch Providers (IRP) Associations, comes along with a chartist methodology that will make trading CFDs a smoother experience. Even more, the tool is available on mobile as well, so you will be able to use it whenever you are logged into the platform.
The Economic Calendar, an Instrument Covering Global Events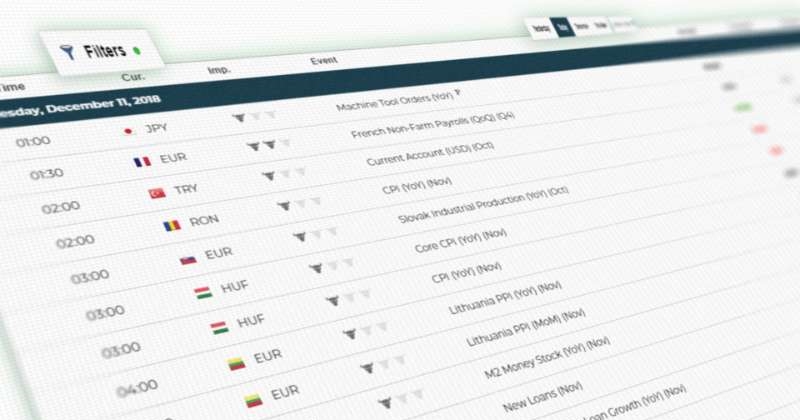 Image: The Economic Calendar that can be found at ClickTrades.
On our website you will also get access to the Economic Calendar which is updated in real-time and covers financial and economic events that could have an impact over the markets.
To develop your trading strategies, you can get all the information you need in one place. Just select the time frame you are interested in, filter the events and keep track of the ones you are interested in.
Our Economic Calendar will allow you to see events from all over the world that you can select from the main menu where you can find data for:
• the previous day;
• the ongoing day;
• the next day;
• the ongoing week;
• a date of your preference that you can choose by clicking on the calendar icon on the right side of the instrument's main menu.
You should always keep your eyes on these events, wherever they are happening (i.e. the U.S., China, Germany) as any of them could have a great impact on the evolution of the CFD instruments you are trading.
Thus, the Economic Calendar is a handy instrument that will provide you with many useful information to help you in the trading decisions you make.
Attractive Rewards from an Authorised and Regulated Broker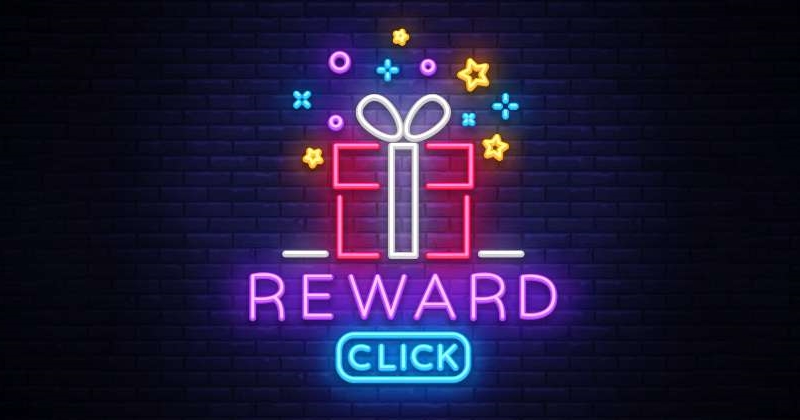 Image: Suggestion of ClickTrades promotions program.
At ClickTrades new and existing clients will encounter a policy developed for rewarding anyone who joins us. These bonuses and / or financial awards are part of the brand's promotions program and you can enjoy the promotions for a limited time frame.
Each promotion has its own terms and conditions that you must accept before participating in the program and the terms and conditions associated with each award / promotion can be subject to change.
A Dedicated Multilingual Support Team to Help You with Your Enquiries
As ClickTrades makes all efforts for every customer's satisfaction, you can contact us for any questions you might have from Monday to Friday between 6:00 AM GMT and 01:00 AM GMT.
For all enquiries you can get in touch with us by phone, email or LiveChat or even write to us directly on the website by filling out the form you can find on our Contact Us page.
Why Trade Contracts for Differences with ClickTrades?
From offering a platform with fast execution speeds to high leverage and tight spreads, ClickTrades takes every action to support you in having the ultimate trading experience.
Once you join us, you will have flawless trading sessions on our proprietary platform, WebTrader, developed to offer you all a trader can ask from a platform: a wide variety of CFD instruments and essential tools, advanced charting methodologies, Trading Central, and many more.
To stay connected to the markets you can always check out our Economic Calendar as well or access our latest financial headlines where you will find out about the newest market events, learn about the trends and strategize according to the gathered information.
Join us today for an enhanced trading experience!
Sources: Investopedia.com and Wikipedia.org.
Trading CFDs involves significant risk of loss.