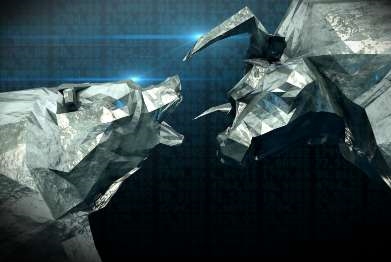 Image: Falling and rising markets
Every Monday we take a look at the major events that moved the markets the previous week as we know that you need to stay up to date with all the financial news to decide which instruments to trade, why and how. Here's what happened the previous days:
The FED Shifts the Tone, What's Next for the Dollar?
On Wednesday, Fed Chairman Jerome Powell shifted his tone during the central bank's first policy update and said that the bank will be "patient" regarding future increases of the interest-rates. As a consequence the ICE U.S. Dollar Index DXY (+0.10%) fell to a three-week low, which was expected by analysts.
On top of that, analysts also believe that U.S. economic data will look bad in the second half of 2019, and that may also hit the dollar this year.
"While a dovish central bank is a currency-negative factor, the outlook for the dollar crosses must also be seen in the context of the fundamental backdrop for other currencies," said Jane Foley, senior FX strategist at Rabobank.
Looking at Jane Foley's words, we must also note that the European Central Bank is expected to raise rates, while the Bank of Japan is far away from such a move. Still, these three make up the group of the biggest central banks and they put a lot of pressure on major currencies.
"Indeed, the euro EURUSD, -0.1047% remains directionally conflicted, leaving the Japanese yen USDJPY, +0.23% as the default 'anti-dollar' and hedge for an uncertain outlook. We expect dollar-yen to grind lower but to keep within established ranges," said Mazen Issa, senior FX strategist at TD Securities.
Last Week Pound Scored Biggest Monthly Rise in 2019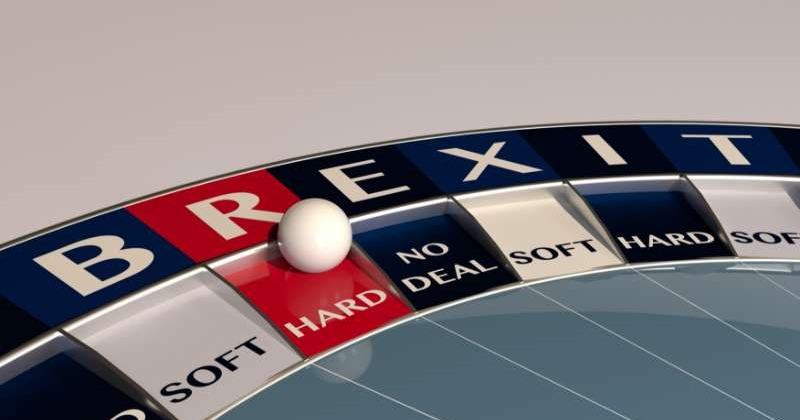 Image: Hard Brexit versus soft Brexit.
As the U.K was getting ready to resume negotiations with the European Union regarding the issue of Irish border arrangements after the Brexit takes place, the British pound firmed on Thursday, reaching the biggest monthly rise this year.
The GBP strengthened 3% against the USD and 2.8% versus the EUR in January as currency traders slashed the odds on Britain leaving the European Union without a trade deal in place.
There are only around two months left before the Brexit and investors keep their eyes on all the movements happening around the huge event as it's still surrounded by deadlock and uncertainty.
"EU leaders have a new script that developments in London make a disorderly Brexit more likely," said Petr Krpata, an FX strategist at ING in London. "However this should be seen as positioning and even if May returns from Brussels empty-handed, the prospect of a fresh set of amendments being debated in London Feb 13/14th can keep GBP supported," he added.
How Did the Figures Look for Major Commodities?
Oil Seems Stuck Below the Price of $55 a Barrel
As China revealed weak manufacturing data and the uncertainty regarding trade talks between U.S. and China persisted, oil held near $54 a barrel in New York.
Even though, WTI futures rose more than 18% last month, oil is stuck below the price of $55 a barrel, even though OPEC and its allies cut production hoping they would bolster prices that sank approximately 40% last quarter.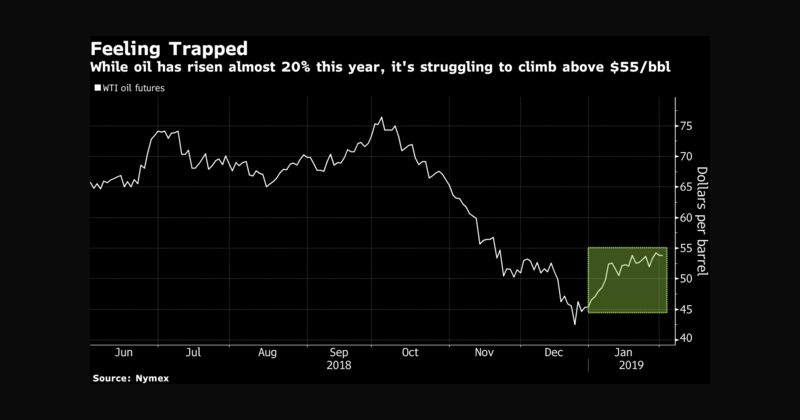 Image: WTI Oil Futures Prices
Source: Bloomberg.com
"We are seeing quite a bit of disappointment creeping into the market with the failure to move higher," said Ole Hansen, head of commodities strategy at Saxo Bank A/S. "For now the market seems to be adopting a wait-and-see approach on the demand side, which has yet to be negatively impacted by the economic slowdown witnessed in recent months."
Other events that put pressure on oil prices lately were:
1. the report showing that Chinese manufacturing PMI fell more than expected last month – 48.3%;
2. U.S. Federal Reserve failed to reassure investors worried about the trade war;
3. the talks between U.S. and China as the new tariffs are expected to kick in on March 1;
4. U.S. blocked state oil company Petroleos de Venezuela and the sanctions could directly halt 500,000 barrels a day of Venezuelan oil exports to the U.S.
Natural Gas Affected by Freezing Temperatures in U.S.
Freezing temperatures across the North of United States have caused barely a ripple in natural gas markets showing how plentiful supplies have become thanks to the shale revolution. Not only is natural gas affected by extremely cold events, but electricity as well.
Before the cold snap, natural gas stocks were 13% below the five-year average, but prices have continued to fall and the prices for gas delivered in March are now close to their lowest level in four years: below $3 per million British thermal units.
Gold Prices Settled Higher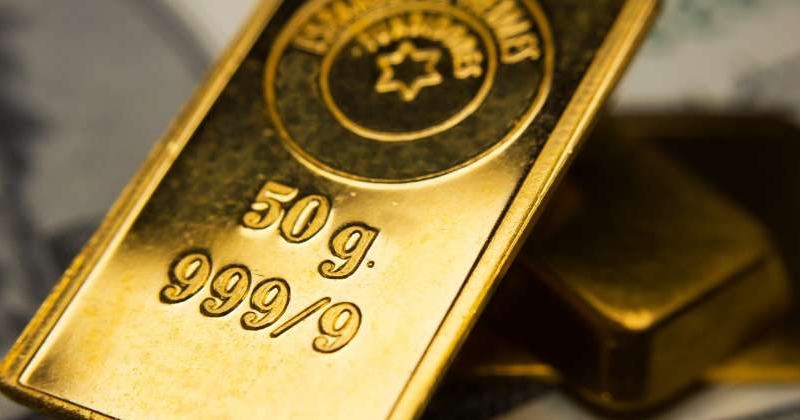 Image: Gold, a commodity priced in U.S. dollars.

On Thursday, gold futures settled higher, tallying a fourth straight monthly gain as the Fed left interest-rates unchanged. The most-active April gold contract GCJ9, -0.40% climbed $9.70, or 0.7%, to settle at $1,325.20 an ounce, after it had settled at $1,315.50 an ounce before the Fed's statement on Wednesday.
As the U.S. central bank decision put pressure on the dollar, it provided a runaway for commodities that are priced in the U.S. currency to trade higher.
Meanwhile, a report from the World Gold Council showed that demand for gold in 2018 rose by 4% to 4.345.1 metric tons.
Indices: DOW and European Shares Rise after Strong U.S. Job Report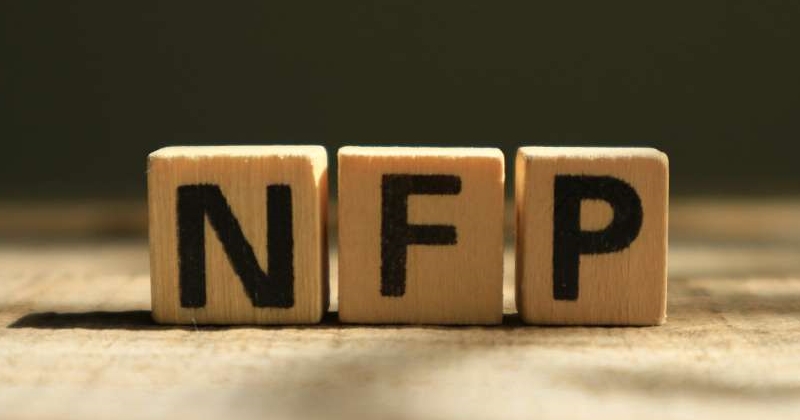 Image: Nonfarm Payroll beats expectations.
After the U.S. government released a job report that beat expectations, the Dow and European indices rose.
The Nonfarm Payroll released by the Bureau of Labor Statistics showed that the U.S. economy added 304,000 jobs in January, as analysts were expecting a total of 170,000. Still, the monthly report included a sharp downward revision regarding December's job gains.
"There were definitely some gives and takes here with this report," said Bill Northey, senior investment director at U.S. Bank Wealth Management. "Regardless of your perspective, there was something to find in it."
As a result, the 30-stock Dow rose 64.22 points to 25,063.89 as Chevron, Exxon Mobil and Merck all closed higher. The Dow also posted its sixth straight week of gains, its longest since November 2017. The S&P 500 closed 0.1 percent higher at 2,706.53 as gains in the energy and tech sectors offset losses in consumer discretionary. The Nasdaq Composite declined 0.25 percent to 7,263.87 as Amazon shares fell.
On the Old continent the figures looked good for European indices and shares:
· STOXX 600 index was up 0.3% and European bourses were mostly in positive territory;
· trade-sensitive assets, European car makers, rose 1% to a three-month high;
· Electrolux went up 10%, while JCDecaux shares were boosted 5.5%.
FAANG: Not Everything Looks Good
Facebook (FB) seems to be in a rollercoaster, as things go either up or down for the company. Last week, two leading fact-checking agencies stopped working with Facebook. Their decision was s huge strike for the company which is making big efforts to fight fake news.
Facebook had paid the Associated Press and Snopes to combat its misinformation crisis, but both announced they will no longer be checking articles, and the decision came as a hit, as Facebook had committed to expand efforts to fight misinformation in 2019.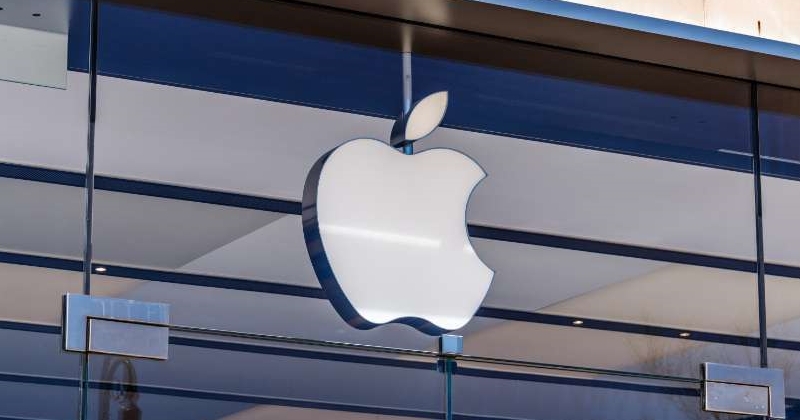 Image: Apple store.
Before the bad news came for Facebook, the company had just made peace with Apple (APPL) so Facebook employees could start using internal iOS apps again after a short-lived squabble on Thursday when the iPhone maker put an end to a certificate and then renewed it for the social media company.
"We have had our Enterprise Certification, which enables our internal employee applications, restored. We are in the process of getting our internal apps up and running," a Facebook spokesman told CNBC in a statement. "To be clear, this didn't have an impact on our consumer-facing services."
Although Amazon (AMZN) shares fell around 3% last week due to uncertainty in India, higher investment spending, slowing growth, and a weaker outlook, analysts still stand by the stock.
Goldman Sachs analyst Heath Terry was one of the few standouts, actually raising his 12-month price target to $2100. "We continue to believe Amazon represents the best risk/reward in Internet given the relatively early-stage shift of workloads to the cloud, the transition of traditional retail online, and share gains in its advertising business, the long-term benefits of each we believe the market continues to underestimate for Amazon," Terry wrote.
As Netflix (NFLX) prepares for the 91st Annual Academy Awards that will take place later this month, the streaming giant has launched a news sidebar to honour the legacy of Hollywood's biggest night and the nominations of own productions such as: Ava DuVernay's "13th," Dee Rees' "Mudbound" and Alfonso Cuarón's "Roma."
Google (GOOG) employees are starting to lose their faith in their CEO's vision according to a survey which asked whether Sundar Pichai's vision of what the company can achieve inspires them: 78% responded yes, down 10% from last year.
The Googlegeist employee survey also showed among other:
· Pichai's decisions and strategies help Google do excellent work – 75% positive, down 13 percentage points from the previous year;
· Pichai demonstrates a visible commitment to diversity and inclusion – 79% positive, down 12 points.
· Google has the right priorities – 66% positive, down 13 points.


Sources: MarketWatch.com, Reuters.com, Boomberg.com, CNBC.com, BBC.com, and Variety.com.
Trading CFDs involves significant risk of loss.