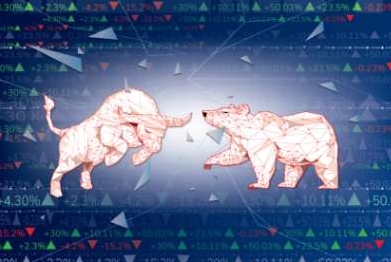 During the course of the week, markets are put under pressure or impacted positively by events of smaller or larger scale (i.e. announcements made by public institutions, trade talks between different states, reunions that involve oil producers). Every trader has to check out the financial news headlines before deciding which instruments to trade and how to trade them. That's why we have you covered with a list of events that moved the markets last week:

The European Central Bank Kept its Policy Unchanged, Hurting the Euro
On Thursday, the dollar rose to a more than five week high against the euro, all due to an announcement made by the European Central Bank. The ECB decided to keep the current policy unchanged, although a rate hike is expected later this year despite the euro zone suffering the biggest slowdown in half a decade.
Mario Draghi, the President of the ECB, said during a news conference "the risks surrounding the euro area growth outlook have moved to the downside on account of the persistence of uncertainties", citing issues such as trade and geopolitical threat and emerging market volatility.
After the decision was announced, the EUR was 0.18% lower against the U.S. dollar at $1.136, after it had fallen as low as $1.308, it weakest level since December 17, 2018.
Addiction to Real Estate Has Created a Debt Mountain in Australia
These days the Australian dollar isn't threatened only by the slowing global growth and the U.S.-China trade war, but by addiction to real estate as well.
In 2018, Australia was the worst-performing developed-nation currency, and it seems that the Aussie is set to extend losses in 2019. A high level of indebtedness at households, which is almost near the record level, predicts that it's likely for the Reserve Bank of Australia to cut interest rates to support the country's economy, according to strategists at HSBC Holdings Plc and Rabobank.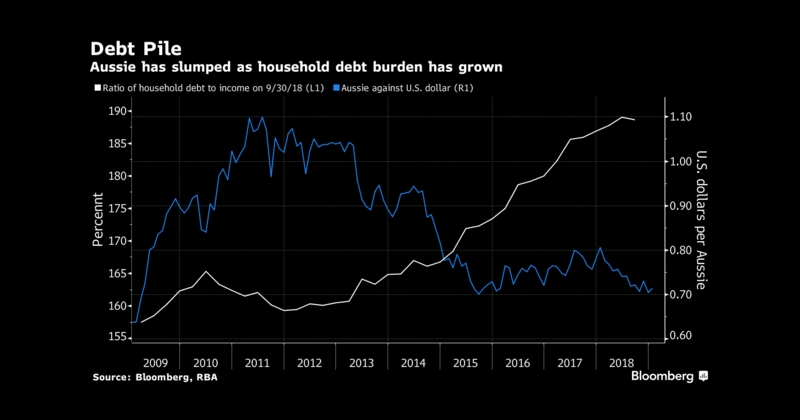 Image: Australia household debt.
Source: Bloomberg
For five straight quarters, the AUD has tumbled, including a decline of 9.7% las year. At the beginning of the year, the Aussie slid in what was called a "flash crash" provoked by a holiday in Japan and remains susceptible to future events.
How Did Oil, Natural Gas and Gold Perform Last Week?
Oil Prices Affected by the EIA Report and Venezuelan Crisis

On Thursday, oil futures took different paths, as U.S. prices had a modest gain and the global benchmark edged lower as traders reacted to 2 main events:
1. a weekly surge in U.S. crude stockpiles;
2. sanctions that the U.S. were considering on Venezuelan crude oil.
Although the U.S. President Donald Trump officially recognized opposition leader Juan Guaido as intermarry president of Venezuela on Wednesday, the U.S. threatened a day later to impose sanctions on Venezuela's oil industry that could affect the South American country's exports.
The Energy Information Administration reported on the same day that domestic crude supplies had climbed by 8 million barrels for the week ended January 18, which was contrary to the expectations of analysts at S&P Global Platts.
As a consequence, on Thursday, West Texas Intermediate crude for March delivery was up 0.6%, at $52.92 a barrel on the New York Mercantile Exchange, while March Brent lost 0.2%, to $61 on ICE Futures Europe.
Saudi Arabia Is Looking to Invest in U.S. Natural Gas
Forbes reported last week that Saudi Arabia is interested in investing in U.S. natural gas. The Kingdom is considering 2 facilities:
1. Tellurian's proposed Driftwood LNG export terminal in Louisiana;
2. Sempra Energy's Port Arthur LNG facility in Texas.
The Saudis are ready to spend "billions of dollars" in the U.S., and all the movements are part of the Kingdom's grand strategy for $150 billion of investment in gas over the next ten years. If Saudi Arabia manages to get access to U.S. gas, that could help the country reduce an unwise over reliance on oil-based electricity.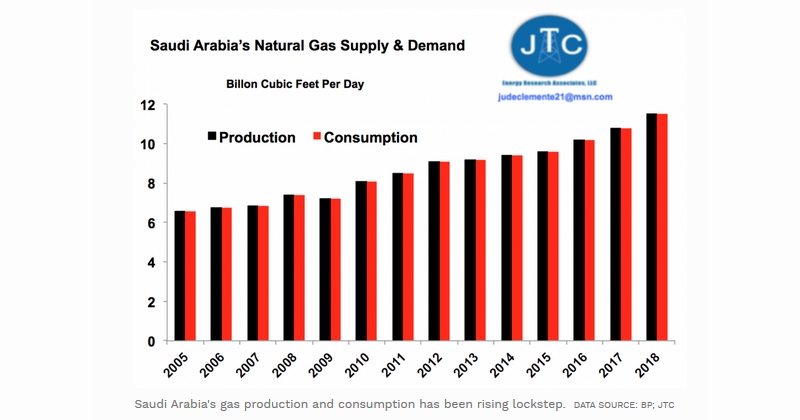 Image: Saudi Arabia's natural gas supply and demand.
Source: Forbes.com
Gold Was Up Amid Growth Concerns
On Thursday, gold prices edged up, supported by a softer dollar and a limited demand for risky assets due to a prolonged U.S. government shutdown and slowing global growth:
· Spot gold went up 0.2% at $1,284.35 per ounce, while U.S. gold futures were steady at $1,283.80 per ounce;
· the U.S. dollar edged lower against a basket of currencies;
· Societe Generale rose on Wednesday its gold price forecast for 2019 from $1,275 per ounce to $1,325 per ounce.
How Does the Future Look for S&P 500?
Between 2007 and 2009, the S&P500 lost 56%, adjusted for dividends and inflation. In the next decade, 2009-2018, stocks went up and the figures for S&P 500 looked better. Still, every trader would like to know in advance how the market could perform. Financial analysts like Warren Buffet (one of the wealthiest people worldwide) or Robert Schiller (Nobel Prize in Economics in 2013) have created long-term projections with data that goes back more than half a century.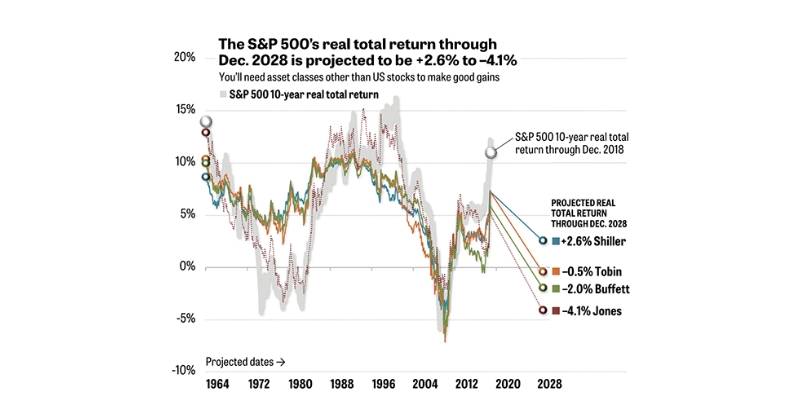 Image: S&P 500 projections.
Source: MarketWatch.com
The above graph shows projection methods estimated the market's 10-year rate of return in the past. The round markers on the right are the forecasts for the 10 years that lie ahead of us. All of the numbers for the S&P 500 include dividends but exclude the consumer-price index's inflationary effect on stock prices. Here's what each analyst has to say:
· Shiller's P/E10 predicts a 2.6% annualized real total return;
· Buffett's MV/GDP says minus 2.0%;
· Tobin's "q" ratio indicates minus 0.5%;
· Jones's Composite says minus 4.1%.
The predictions seem far apart, but the forecasts are all much lower than the S&P 500's annualized real total return of about 6% from 1964 through 2018.
European shares Affected by Macro Gloom

On Wednesday, European shares were sluggish as poor corporate updates added to the global growth slowdown concerns and the trade negotiations between China and the U.S..
The STOXX 600 lost 0.1%, after it had come in and out of negative territory throughout the session. Still, the index has regained some ground after it hit two-year lows last month, but there are uncertainties over how much the rebound will last.
"I'm not so sure that this rebound is sustainable, without more positive news flow, corporate or on the US-China trade dispute front," said Stephane Ekolo, equity strategist at Tradition Securities.
The STOXX 600 level was influenced mainly by the following stocks:
· Metro Bank (MTRO.L), which fell nearly 39%;
· Ingenico (INGC.PA) was down more than 13% to six-year lows;
· ASML Holding (ASML.AS) fell as much as 4.8%.
FAANG - Wall Street Seems More Upbeat About the Facebook Stock, While Alphabet Outpaces Stock Market Gains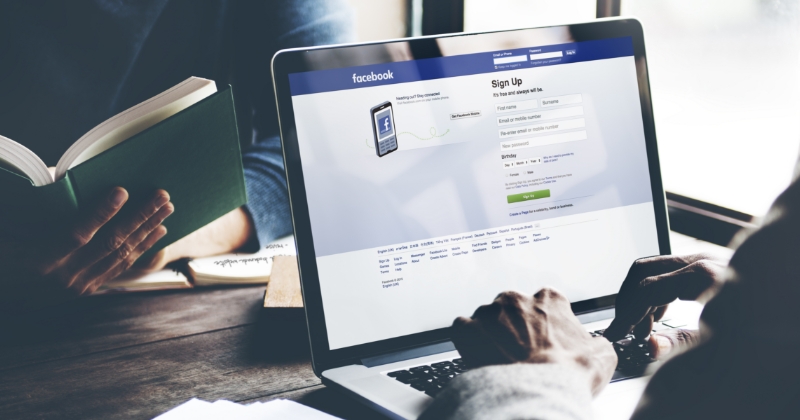 Image: Man logging into Facebook account.
Facebook Stocks Could Be Impacted by Several Events
Last year was horrible for the Facebook (FB) stock as the company shares lagged big tech names such as Microsoft (MSFT), Amazon (AMZN) and Alphabet (GOOG). But from the start of 2019 the sentiment towards Facebook has shifted as stocks have been up 8% in 2019. This week's company report for the fourth-quarter results will how strong the Facebook stock really is right now.
Analysts expect on average Facebook's revenues to come in at $16.41 billion, while the company's adjusted earnings are expected to be $2.17 per share of FB stock, off about 1% from the same period a year earlier.
Other elements that could impact the Facebook stocks are:

· Mark Zuckerberg's plan to focus on investments;
· Germany might take action against Facebook if it's proven that the company has abused its market power;
· the U.S. Federal Trade Commission (FTC) is close to taking action against Facebook.

Apple Dismissed Over 200 Employees
Last week, Apple (AAPL) dismissed over 200 employees from Project Titan, its autonomous vehicle group. An apple spokesman said:
"We have an incredibly talented team working on autonomous systems and associated technologies at Apple. As the team focuses their work on several key areas for 2019, some groups are being moved to projects in other parts of the company, where they will support machine learning and other initiatives, across all of Apple".
In August, Apple enlisted a Tesla engineering vice president and Apple veteran, Doug Field, to lead the Titan team alongside Bob Mansfield. Still, after the decision was announced, Apple executives remained mum in recent months about the project.
Amazon Tested Autonomous Electric Delivery Devices
If things didn't look so good for Apple, Amazon (AMZN) announced it was testing Amazon Scout, autonomous electric delivery devices, in Snohomish County, Wash. These robots are expected to "roll along the sidewalk at a walking pace" delivering packages during the day. Initially, when the robots will be available for the public, they will be accompanied by an Amazon employee. The devices will be ordered as normal.
Netflix Shares Could Keep On the Right Track
During the last period, being a Netflix (NFLX) shareholder was smooth sailing, especially since this month the Netflix stock price jumped to $325.16, or over 25%. Still, a disappointing earnings report started worrying investors: although the company beat its target for earnings per share - 30 cents versus 24 cents - it missed revenue projections. Consensus called for sales of $4.21 billion. Instead, NFLX mustered only $4.19 billion.

Although the earnings report for Q4 didn't look as good as expected, Netflix won 15 Oscar nominations which, according to analysts, could keep the shares on the right track.
Wall Street is Looking Positively at Alphabet
On Wednesday, Alphabet (GOOG) closed at $1,084.41, marking a +0.54% move from the prior day. The change outpaced indices such as: S&P 500 (+0.22%), Dow (+0.7%), and the tech-heavy Nasdaq (+0.08%).
Wall Street is also looking positively at the approaching earnings report. The Q4 report is expected to be February 4, 2019. The company is expected to report EPS of $11.12, up 14.64% from the prior-year quarter. Meanwhile, the Zacks Consensus Estimate for revenue is projecting net sales of $31.26 billion, up 20.84% from the year-ago period.
Investors should keep an eye on any changes to analysts' estimates for GOOG as they could get more info on the trends in the short-run.
Sources: Reuters.com, Bloomberg.com, MarketWatch.com, Forbes.com, Nasdaq.com, CNBC.com, and Zacks.com.
Trading CFDs involves significant risk of loss.